Send Inquiry
Flexible Communications Cable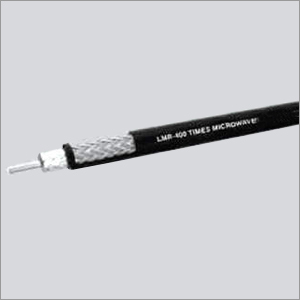 Flexible Communications Cable
We are known throughout the nation for engineering expertise in manufacturing Flexible Communications Cable. It is available in a wide range like automotive wiring harness,battery cables and ignition cables. The premium grade insulation material of Flexible Communications Cable allows this cables to withstand in high heat & environmental conditions. As per different market requirement, this Flexible Communications Cable is offered to our customers in different specifications.

ideal for...
Drop-in replacement for RG-8I9913 Air-Dielectric type Cable
Jumper Assemblies in Wireless Communications Systems
Short Antenna Feeder runs
Any application (e.g. WLL. GPS, LMR. Mobile Antennas, 802.11. WLAN) requiring an easily routed. low loss RF cable
Flexible: With a 1-inch minimum bend radius. LMR-400 cable can be easily routed into and through tight spaces with- out kinking. The LMR bonded-tape outer conductor provides superior flexibility and ease of bending compared to corrugated copper or smooth wall copper hard-line cables.
Low Loss: LMR-40ohasthe lowest loss of any RGBIRGZ13 'type' table. This is achieved through the use of a high velocity gas-injected closed cell foam dielectric and bonded aluminum time outer conductor.
Weatherproof : The UV protected black polyethylene jacket makes the cable rugged and resistant to the full range of out- door environments. The 08 version of the cable includes a water blocking material within the braid to protect the cable from moisture ingress and eliminate any potential for commission in harsh environments or should the jacket become damaged. Various jacket materials are available to address other indoor and outdoor requirements.
RF Shielding : The bonded aluminum tape outer conductor is overlapped to provide 100% coverage. resulting in >90 dB RF shielding (>180 dB crosstalk) and excellent interference immunity (ingress and egress).
Phase Stability : The intimately bonded structure and foam dielectric of LMR cables provide excellent phase stability over temperature and with bending. The high velocity dielectric results in superior phase stability as compared with solid and air-spaced dielectric cables.
Connectors and Assemblies : Times Microwave provides Flex Tech'" jumper cable assemblies fabricated with LMR-400- DB water tight cable and a variety of connector interface combinations (ref: Flex Tech pages). Custom assemblies with phase matching. Insertion loss matching. and other special electrical or marking requirements can also be provided. A full range of connectors. Including 'EZ' install (non-solder) types, is available for
Part Description :


| | | | |
| --- | --- | --- | --- |
| Part Number | Designation | Jacket | Stock Code |
| LMR-400 | Standard outdoor cable | Polyethylene | 54001 |
| LMR-400-DB | Watertight cable | Polyethylene | 54091 |
| LMR-400-FR | CMR/MPR (PCC-FT4) | Non-Halogen | 54030 |
| LMR-400-LLPL | CMP/MPP (PCC-FT6) | Plenum | 54070 |
| LMR-400-PVC | Indoor cable (CATVR) | PVC | 54073 |
| LMR-400-Ultra Flex | Ultra Flex cable | TPE | 54040 |
| LMR-400-fr-w | CMR/MPR (PCC FT4) | While Non Halogen | 54188 |
| LMR-400-75 | 75 Ohm outdoor cable | Polyethylene | 54147 |
LMR-400 Cables as shown on the next page.
LMR-LLPL Low Loss Plenum : Refer to LMR in Building Communication catalog on web site for details.
Mechanical Specifications :


| | | |
| --- | --- | --- |
| Minimum bend radius | 1.0 in | 25.4 mm |
| Bending moment | 0.5 ft lb | 0.68 N-m |
| Weight | 0.068lb/ft | 0.10 kg / m |
| Tensile Strength | 160 lb | 72.6 kG |
| Flat Plate crush | 40 lb/in | 0.71 g /mm |
Construction Specification :


| | | | |
| --- | --- | --- | --- |
| Part Designation | Material | Inches | mm |
| Inner Conductor | Solid BCCAI | 0.108 | 2.74 |
| Dielectric | Foam polyethylene | 0.285 | 7.24 |
| Outer Conductor | Aluminium tape | 0.291 | 7.39 |
| Overall Braid | Tinned Copper | 0.320 | 8.13 |
| Standard jacket | Black Polyethylene | 0.405 | 10.29 |
Environmental Specification :


| | | |
| --- | --- | --- |
| | oF | oC |
| Installation temperature range | -40/+185 | -40 / +85 |
| Storage temperature range | -94/+185 | -70 / +85 |
| Operating Temperature range | -40/+185 | -40 / +85 |
Electrical Specification :


| | | |
| --- | --- | --- |
| Cutoff frequency | 162 GHz" | |
| Velocity of propagation | 85% | |
| Voltage withstand | 2.500 VDC | |
| Peek power | 16 kW | |
| DC resistance | | |
| Inner conduct, ohms | 1.39 / 1.000' | 45/km |
| Outer conductor, ohms | 1.65 / 1,000' | 5.41/km |
| Jacket spark | 8.000 VRMS | |
| Impedance | 50 ohms | |
| Capacitance | 23.9 me | 78.40 pF/m |
| Inductance | 0.060 uH/ft | 0.20 uH/m |
| Shielding effectiveness | >90 dB | |
| Phase stability | <10 ppm/ oC | |
| Consult factory tor applications over | 6 Ghz | |
Frequency

Attenuation

Avg. Power

MHz

DB/100 ft

DB / 100 m

kW

30 MHz

0.7

2.2

3.3

50 MHz

0.9

2.9

2.6

150 MHz

1.5

5.0

1.5

220 MHz

1.9

6.1

1.2

450 MHz

2.7

8.9

0.83

900 MR:

3.9

12.8

0.58

1500 MN:

5.1

16.8

0.44

1800 MHz

5.7

18.6

0.40

2000 MN:

6.0

19.6

0.37

2500 MN:

6.8

22.2

0.33

5800 MHz

10.8

35.5

0.21